Garforth fatal house blaze investigation under way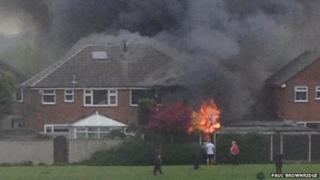 The cause of a house blaze that killed two people in Leeds is being investigated.
The fire broke out in Garforth on Tuesday evening. One victim died at the scene and the other died later in hospital.
Neither has been officially named following the blaze in Farfield Court, just after 18:30 BST.
Specialist officers from West Yorkshire Fire Service are working with police to establish the cause.
Incident manager Nigel Kirk said it was an "extremely serious" fire which had spread to the roof of the house.
The BBC's Andrew Edwards, from the scene, said: "The fire damage is really severe - a lot of the roof tiles have gone."
"There's severe damage to the rafters, the entire front of the house is charred black and there is severe damage to the upstairs window.
"There's a yellow tarpaulin over the front door, and police cordons front and back."
The initial call to emergency services reported a "fire, possibly an explosion".
The gas board was also called to the scene.
Eyewitness Steve Bradley said: "I first saw the people rushing down our street.
"I saw what I thought was the garage at the back on fire, then all of a sudden you could see it was the house.
"The smoke that was coming out was unbelievably black. Then one of the windows blew out.
"It looked like roaring gas flames coming out of the window and with that, the fire engines started arriving, fortunately."
Alec Shelbrooke, MP for Elmet and Rothwell said the fire was "devastating".
"In Garforth, we are a close and strong community and we will come together to offer support at this difficult time," he said.
"The emergency services acted quickly and professionally but now need time to determine what caused this terrible tragedy."
Det Ch Insp Paul Fountain, of West Yorkshire Police, urged anyone with information to contact Leeds CID.
The fire service said it would be offering support to people living nearby for the rest of the week.