Ann Maguire stabbing: Prayers offered for killed teacher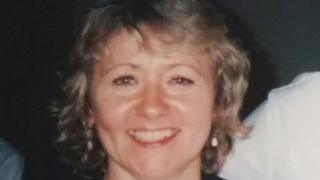 Prayers have been said across West Yorkshire for teacher Ann Maguire who was killed at a school in Leeds last week.
Congregations at dozens of churches paid tribute to Mrs Maguire, 61, who spent four decades teaching at Corpus Christi Catholic College.
The Catholic diocese of Leeds wrote to about 90 churches asking them to hold the special prayers during Mass.
Mrs Maguire, who was due to retire in months, died from multiple stab wounds.
"Everybody is so hurt by what has happened," a diocese spokesman said.
"She was amazingly well-known in the local community for what she had done for young people.
"We are asking everybody to remember Ann Maguire in their prayers, and to remember her family who will be under pressure and stress at this time."
Mrs Maguire is survived by her husband Donald and her daughters Kerry and Emma.
Book of condolence
On Tuesday, Steve Mort, the head teacher of the college where Mrs Maguire taught Spanish, described her as the "mother of the school" and "the calm in the storm".
Monsignor John Wilson, administrator of the diocese, wrote to all Catholic churches in West Yorkshire - which have a combined congregation of about 32,000.
His letter praised the "great spiritual and pastoral" support offered to students at Mrs Maguire's school, some of whom had witnessed the fatal attack.
"It goes without saying, but please would you pray especially for Ann, her family and the college and local community. It is in the strength of prayer that we stand united in faith," he added.
A book of condolence has been opened at Leeds Cathedral for the public to offer their messages of sympathy.
On Saturday, delegates at the National Association of Head Teachers conference in Birmingham held a minute's silence in memory of Mrs Maguire and offered their condolences to her family.
A 15-year-old boy is in custody charged with the murder of Mrs Maguire.