Ann Maguire stabbing: Pupils hold football matches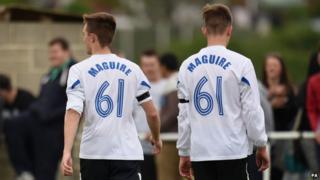 Hundreds of pupils and former students of a teacher who was killed in her classroom have gathered for memorial football matches.
Ann Maguire, 61, was stabbed to death at Corpus Christi Catholic College in Leeds last Monday. A 15-year-old boy is in custody charged with her murder.
Two games were held on pitches opposite the school, each preceded by a minute's silence to remember the teacher.
Organiser Sheardon Nicholson said the aim was to raise money for a memorial.
Many of those taking part in the matches paid for their own special shirts, with "Maguire 61" printed on the back.
The first match involved former pupils playing against Year 11 boys, which was followed by a game between girls from the school.
Hundreds of balloons - many with personal messages written on them - were released in memory of the teacher after the matches.
The bells of the nearby church also rang to coincide with the balloons being released.
Collecting money
Earlier on Monday Mr Nicholson, 18, said: "We're hoping to get some money together to get something to remember Mrs Maguire by.
"Mrs Maguire taught me for one year when I studied Spanish and was then the head of year when I was in Year 11."
Prayers were said across West Yorkshire on Sunday for Mrs Maguire.
Congregations at dozens of churches paid tribute to the 61-year-old, who spent four decades teaching at Corpus Christi Catholic College.
The Catholic diocese of Leeds wrote to about 90 churches asking them to hold the special prayers during Mass.
Mrs Maguire, who was due to retire in a few months, died from multiple stab wounds.
Earlier on Monday a man admitted posting abusive Twitter messages about her death.
Robert Riley, from Port Talbot, south Wales, appeared before magistrates in Leeds where he admitted sending a message of a grossly offensive, abusive or malicious character. He will be sentenced at Swansea Magistrates' Court at a later date.