Ann Maguire: Funeral held for stabbed Leeds teacher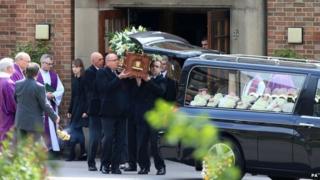 The funeral of teacher Ann Maguire, who was stabbed to death in front of her pupils at a school in Leeds last month, has been held in the city.
Mrs Maguire, 61, was fatally stabbed at Corpus Christi Catholic College in Halton Moor, Leeds, on Monday 28 April.
The service, attended by about 300 mourners, took place at the Catholic Church of the Immaculate Heart of Mary, in Moortown, Leeds.
A 15-year-old boy has been charged with Mrs Maguire's murder.
The boy, who cannot be named because of his age, is expected to stand trial in November.
An inquest earlier this week heard Mrs Maguire died from "shock and haemorrhage" after being stabbed in the neck.
Leeds Coroner's Court heard her jugular vein was severed in the attack. The inquest has been adjourned to a later date.
Mrs Maguire, who taught Spanish, had worked at Corpus Christi for more than 40 years and was due to retire in September.
Her family arrived in two black cars at the doors of the red-brick Immaculate Heart church, where they were met by clergy.
Mrs Maguire's husband Don, 62, was accompanied by daughters Emma and Kerry and nephews Daniel and Andrew, who the teacher treated as her own sons following the death of her sister.
A stream of mourners had already arrived at the church before the family, including Corpus Christi Catholic College head teacher Steve Mort and children from the school dressed in uniform.
During the eulogy to his wife, Mr Maguire said she had "loved teaching".
"A dream as a very young child, an ambition in teenage years, a fulfilling reality for 40 years." he said.
"But, in true humility, she always stressed that she learned so much from others."
Following the funeral mass, which lasted about an hour-and-three-quarters, Mrs Maguire's coffin was carried out of the church.
White carnations on either side of the coffin spelt out "mummy" and "sister".
Mrs Maguire's husband and his family hugged some of the mourners as they followed the pallbearers out of the building.
The congregation gathered outside as the cortege pulled out on to Harrogate Road on their way to a private burial.
Police officers bowed their heads as the hearse drove slowly out of the gates.
Speaking before the funeral, Ian Murch, from the National Union of Teachers, had said the service was an opportunity to celebrate Mrs Maguire's life and achievements.
"This is someone who gave a whole life to one community and to one school, so you are sad but you are also celebrating the wonderful things Ann has done," he added.