Bradford's World Curry Festival opened by US ambassador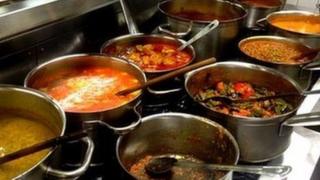 The fifth World Curry Festival has been opened in Bradford by the American ambassador to the UK.
Matthew Barzun opened the festival that has American curry chefs joining cooks from India and Bradford.
Poets Simon Armitage, Ian McMillan and Roger McGough are also to feature as the curry celebration has teamed up with Ilkley Literature Festival.
Zulfi Karim, the festival's founder, said: " It's not just about food it's about a coming together of cultures."
'Amazing adundance'
Mr Barzun said: " I cook curry and I grew up eating what I thought was curry.
"Then I came to the UK and sampled the amazing abundance here."
The event finishes on Sunday.
Bradford was named Curry Capital of Britain in 2013 for the third year running, beating competition from 21 other UK cities.
In 2012 there were 9,500 Indian, Bangladeshi and Pakistani restaurants in the UK, according to the Federation of Specialist Restaurants.