Chris Kamara 'catches street thief' in Brazil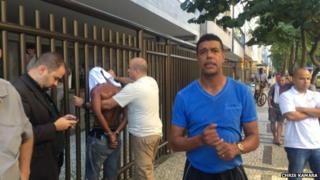 Football pundit and former Leeds United star Chris Kamara has chased down a suspected thief at the World Cup in Brazil.
Kamara, who also played for Sheffield United and managed Bradford City, caught the suspect, who is thought to have been arrested by police.
Middlesbrough-born Kamara, 56, tweeted: "Not lost me pace!!! I just caught this street robber. Done in now though."
He also tweeted pictures of the man, who failed to escape the scene.
Kammy 'told off'
Describing the suspect as "my prize catch", the Sky Sports pundit also tweeted: "My good deed has backfired I have to go to the police station now to make a statement."
A spokesman for the Foreign Office said travellers should be ready to hand over valuables amid fears attackers could be armed or under the influence of drugs.
He added: "We are aware of the incident and we are providing consular assistance to Mr Kamara.
"In terms of his actions in chasing the assailant, that goes against our recommended advice."
In response, the have-a-go-hero repentantly tweeted: "Police & British Consulate in Brazil have politely told me off, a lot of these guys are armed!"