Tour stage winner Brian Robinson opens new cycle route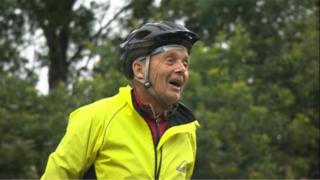 The 1,000th mile (1609 km) of signed National Cycle Network routes in Yorkshire has been officially opened.
The Castleford Greenway cycle route runs along a former railway line at Castleford, West Yorkshire, and was opened by Brian Robinson.
The 84-year-old was the first Briton to complete and win a stage of the Tour de France in the 1950s.
He now volunteers with cycling charity Sustrans helping to maintain cycle routes across Yorkshire.
Mr Robinson said: "I hope this route becomes as popular with walkers and cyclists as the other greenway routes in Yorkshire."
Sustrans said it hoped to connect the new route with existing cycle and walking routes in Leeds, Wakefield, Garforth and Pontefract.
The National Cycle Network is a series of safe, traffic-free lanes and quiet on-road routes that stretches 14,500 miles (23,335 km) across the length and breadth of the UK.