Orashia Edwards's UK asylum claim rejected by judge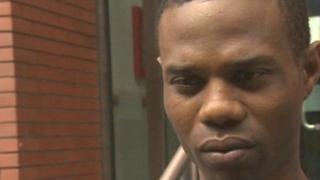 An asylum seeker who says he faces danger in his native Jamaica because he is bisexual has lost his legal battle to stay in the UK.
Orashia Edwards, based in Leeds, was refused permission to stay in the UK by the Home Secretary in December.
The 32-year-old's case for a judicial review of Mrs May's decision was earlier thrown out by a judge in Leeds.
Afterwards, Mr Edwards said he would "prefer to be a dead man than get on a flight, I have nowhere to go".
'Dishonest about sexuality'
In his written judgement refusing permission for a review, Judge Clive Heaton QC said he backed an original asylum tribunal's view that Mr Edwards was not bisexual.
Judge Heaton said in the document issued after the judgement: "The [original] judge made a series of findings highly critical of the applicant's credibility.
"The judge found, for the reasons he carefully sets out, that the applicant was being dishonest on the point [of sexuality]."
Judge Heaton, sitting as a judge of the Upper Tribunal Immigration and Asylum Chamber, said Mr Edwards' grounds for a review did not amount to "an arguable case for challenge of decisions of the Secretary of State for the Home Department".
Outside the Leeds court, Mr Edwards said: "This is my home, I feel safe here, my family and friends are here. I can't go back to Jamaica."