Tour de France Yorkshire: Cavendish in Harrogate crash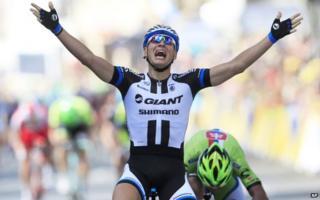 The first stage of the 101st Tour de France in Yorkshire has finished in Harrogate.
The riders had been given a royal send-off by the Duke and Duchess of Cambridge and Prince Harry at 12:00 BST at Harewood House, near Leeds.
The 118-mile (190km) stage was won by Marcel Kittel almost five hours later.
UK rider Mark Cavendish, who hoped to win the stage in his mother's hometown, crashed just yards from the finish and suffered a dislocated collarbone.
Fellow Briton and 2013 Tour winner Chris Froome finished sixth.
Thousands had gathered in Leeds for the ceremonial start with more than one million people lining the route in the county.
Fans were warned to expect long waits for public transport.
Earlier a woman suffered cuts and bruises after falling through a roof in Skipton near to the Tour route, North Yorkshire Police said.
A teenage boy was also injured in Ilkley after being struck by a team vehicle in the Tour convoy. West Yorkshire police said he had been airlifted to hospital to receive treatment for leg injuries.
Almost 200 riders took part in the first stage which passed through towns and villages including Otley, Skipton, Ilkley, Hawes, Leyburn and Ripon before a sprint finish saw Germany's Kittel claim victory.
The royal party met the riders at Harewood House where they were also greeted by a Red Arrows fly-past.
The Duke and Duchess and Prince Harry then paid a surprise visit to West Tanfield, near Harrogate, where Prince Harry stopped to speak to spectators while William and Kate toured the village.
George Hughes, who joined the crowds outside Leeds Town Hall together with his wife and children, said: "It's tremendous. It's going to be fantastic for Leeds and Yorkshire. It's just amazing. I hope it will come back again. It's something to remember for the rest of our lives."
One spectator, Susie, who was at Harewood House, said: "It's really fantastic. It's been so exciting. We got a really good spot, saw the royals land and saw the cyclists go past. It's been fabulous."
Her daughter Milly said: "I enjoyed seeing Prince William and Princess Kate land in the helicopter. The Red Arrows were really good too. It was really cool."
During the race Le Tour Yorks Travel warned people to expect waits of up to three hours for trains between Leeds and Harrogate.
The BBC's North of England correspondent Danny Savage reported "major overcrowding" on trains from York to Harrogate and said buses were "full from Knaresborough onwards".
Northern Rail announced on Wednesday it was increasing its capacity by 50% during the Tour while other train operators have also put on extra services.
A spokeswoman for Northern Rail: "Everything we have got is out there. We are running extra trains, we are running longer trains and we have hired extra trains.
"We are operating as much as we can."
She said the bulk of the queues eased by about 14:00 BST.
Transdev Harrogate said it was using "every spare bus we have including school buses" on the route between Knaresborough and Harrogate.
News of transport difficulties came despite months of planning and preparation being put into making sure the event got off to a good start.
Organisers said "well over" a million people watched along the route, with initial estimates suggesting there were 230,000 spectators in the centre of Leeds and more than 10,000 watched the riders on the steep climb at Buttertubs Hill.
Sir Rodney Walker, chairman of co-ordinators TdFHUB2014 Ltd, said: "Today has been a massive success."
He added: "Spectators have had a fantastic day they will never forget and Yorkshire has been showcased to a massive global audience.
"It has taken a huge amount of planning and teamwork, so thank you to all of our partners, and especially our stewards and the Tour Maker volunteers for all of their hard work.
"Today has set the tone for the next two days, and we look forward to seeing more huge crowds lining the route to watch the world's best cyclists in action."
The 21-stage, 3,664km (2,277-mile) race started in Leeds with the second stage running from York to Sheffield and the third from Cambridge to London, before 18 more stages culminate in the French capital on 27 July.
It is the fourth time the Tour has crossed La Manche (The English Channel).
In 1974 and 1994 it included stages in Britain and in 2007 London hosted the start, known as the Grand Depart.
Four of the 198 riders are British, with Mark Cavendish and Chris Froome, who are two of the main contenders, joined by Geraint Thomas and Simon Yates.