Daisy the stolen foal recovered after tip-off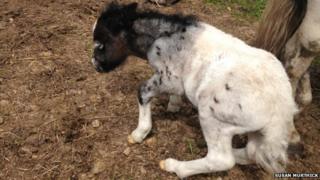 A four-week-old foal stolen from a field near Leeds has been found after coverage of the case led to a tip-off as to the creature's whereabouts.
Daisy the Shetland pony was taken on Wednesday from Lower Mickletown, in Methley, leaving the girl who owns the animal, Macy, "heartbroken".
But Macy's grandmother Susan Murthick said Daisy was now back home after a woman got in touch via social media.
The woman had seen Daisy in a field and recognised her distinctive markings.
Ran to mother
Mrs Murthick said Daisy, who was found in a field about 10 miles (16km) from home, had been checked by a vet.
The foal had a few cuts on her legs but was otherwise unharmed, she said.
Mrs Murthick said she was pleased that Daisy's mother was still producing milk and that Daisy had run straight to her to feed.
The family are now considering installing CCTV cameras to provide more security for their horses, said Mrs Murthick.
West Yorkshire Police Horse Watch appealed for information after the foal-napping, describing Daisy's distinctive white star shape on her head.