Warning after household items dumped on railway tracks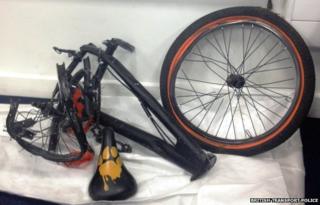 Police have warned someone could be killed after a three-piece suite, a mattress and a mountain bike were dumped on railway tracks in Bradford.
A train struck a bike thrown on to the tracks from a bridge on Station Road in Wyke on 11 July at about 20:00 BST.
On 12 July, a service managed to stop and avoid hitting a three-piece suite and mattress thrown on to tracks from Dalcross Footbridge in West Bowling.
A brick was also thrown at a train on 13 July at Dalcross Grove at 17:50.
British Transport Police said it was fortunate no-one was hurt.
Insp Granville Sellers said: "Whoever was responsible for these foolish and dangerous acts put the lives of rail passengers and staff at risk
"We urge those who think that throwing objects at trains or on to railway lines is fun, or a good way to dispose of their household items, to think about the consequences of their actions, which could result in serious injury or someone being killed."
Two of the trains had to been taken out of service for repairs.
Officers have stepped up patrols in the areas and have asked for witnesses to come forward.