Tailor Owen Scott creates cycling suit for businessmen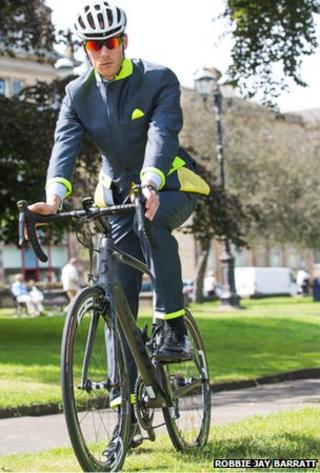 A Yorkshire tailor inspired by the Tour de France's visit to the county has created a cycling suit for businessmen.
Designed by Owen Scott Bespoke Tailors, the suit has a padded crotch area and detachable fluorescent pocket flaps, trouser turn-ups and collar.
Company director Scott Hufton said: "We're based in Huddersfield and Leeds, where the Tour de France set off, and I thought what can I do to mark that?
"I started drawing and doodling and before I knew it had it on paper."
Mr Hufton said: "We've been gripped by the Tour de France and with so many more businessmen taking to their bikes as a result, I wanted to design something that would suit their active lifestyle."
The suit is made with mohair cloth from Huddersfield.
The company says it incorporates nanotechnology to increase stain resistance around the fibres of the fabric meaning it can be worn "from bike to boardroom" with no change required.
But will the £495 suit catch on as a practical alternative to tight-fitting cycling shorts and T-shirts?
"We've sold one already," said Mr Hufton.