West Yorkshire Police in online grooming warning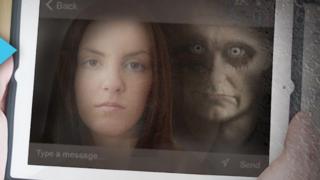 A campaign aimed at protecting young people from grooming by paedophiles using social media has been launched by West Yorkshire Police.
Strong imagery is used to warn youngsters that their online "friends" may be adults posing as children.
The force said the number of sexual offences against children involving social media had risen from 14 in 2010 to 60 in 2013.
Messages will be posted on social media sites as part of the campaign.
An animated image shows a young person talking online to someone who they believe to be their own age.
But the picture morphs into an internet troll, representing an individual pretending to be someone else with the intention of online grooming.
Adverts have been targeted at both boys and girls.
The campaign is supported by the county's local authorities and safeguarding children boards.
'Sexual predators'
Jane Held, chair of the Leeds Safeguarding Children Board, said the initiative was timed to coincide with the school holidays.
"We know that children and young people will be spending more time online, chatting to friends and potentially meeting new people," she said.
"Unfortunately that also means that there is a greater risk of them becoming targets for online sexual predators."
Det Ch Insp Sue Jenkinson said the danger is when young people arrange to meet with their online friends.
She said: "They might come across as being a friend. They might send pictures of them purporting to be a young person of the same age as them, but in actual fact they are a sexual predator who wants to befriend them for intentions of sexual abuse or assault.
"It then leads potentially to them meeting outside and that's when the danger starts."