Labour ousted in Calderdale Council no confidence vote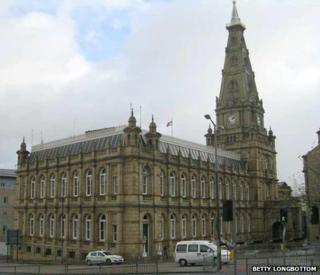 A vote of no confidence in Calderdale Council's Labour administration has been passed, resulting in the council coming under Conservative control.
The vote was passed by 24 to 22 at a full council meeting.
Tory councillor Stephen Baines has taken over from Labour's Tim Swift as the new leader of the council.
Mr Baines said the vote was a result of the Labour administration's "total disregard for what the general public has been saying".
Mr Swift said he was "shocked and astonished", describing the decision to move to a vote of no confidence as a "shabby deal that's been cooked up behind closed doors [which will] cost Calderdale dear".
Calderdale council is made up of 51 elected councillors - 25 Labour, 19 Conservative, six Liberal Democrat and one Independent. It will now be under Conservative minority control.
The council serves Brighouse, Elland, Halifax, Hebden Bridge, Sowerby Bridge, and Todmorden. Following the vote it is the only Conservative-led council in West Yorkshire.
'Only option'
James Baker, deputy leader of the Liberal Democrats, said councillors were left no choice but to vote Labour out.
He said: "Labour were running a minority administration and they promised the people of Calderdale they would listen to the majority will of the council, that they would listen to the people of Calderdale over key issues. Unfortunately they have not done that.
"The only option we have under the cabinet system is to sack the leader and appoint a new one, and that's what has happened tonight."
In a statement, the Calderdale Liberal Democrat group said it would not form a coalition with the Tories but would support a Conservative and Independent coalition.