Pontefract hospice and Bradford hospital flooded by rain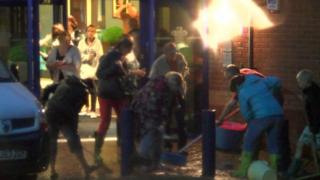 A hospice was flooded and fire crews had to pump out water from the accident and emergency department of a hospital after torrential rain swept across West Yorkshire on Friday.
Crews were called to the accident and emergency department of Bradford Royal Infirmary after the water levels rose.
The Prince of Wales Hospice at Pontefract also suffered flooding.
Patients there were kept safe but West Yorkshire Fire and Rescue received 160 calls for help across the county.
Hospice fundraiser Amanda Jubb, who was at the site, said the waters rose rapidly and the unit needed help over the weekend.
Request for help
She said: "It started to creep up and come in through our main entrance.
"Then we had the nursing staff come to tells us that is was actually flooding in through the conservatory where the patients have a bit of a rest.
"The water was coming in quite rapidly there.
"As we went to our offices the water was about half a foot deep."
Ms Jubb said the situation was made more difficult because of the speed of the deluge and the location of the hospice at the bottom of a hill near a road where the drains were overwhelmed with water.
She said: "It was all hands to the pumps - we've all had to stop (what we were doing) to make sure our patients were safe and looked after.
"We've had relatives of people who were here who came to help us out.
"Our community has come together and the phone has been ringing off the hook with offers of help."
She added the hospice was in need of donations of clean bedding and towels and could do with a mobile catering facility because the kitchen would require a deep clean before it could be used again.