Burglary suspect arrested as wasps carry out 'sting operation'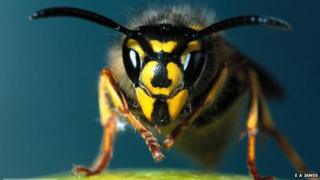 A suspected burglar was arrested after a nest of wasps carried out a "sting operation" when the man tried to hide in a bush.
The man was arrested by police investigating the theft of a fish tank from a furniture shop in Leeds.
Police said the man hid in the bush but was repeatedly stung after disturbing a wasps' nest and had to be taken to hospital because of the stings.
The man has been charged with theft and is due to appear before magistrates.
'Swellings gone down'
West Yorkshire Police's Leeds Inner South Neighbourhood Policing Team posted on Facebook that a man had been arrested.
"The male, however, is currently in hospital after making the unfortunate decision to hide from the police in a bush and thus disturbing a wasps' nest," it said.
The suspect was taken to hospital before he was charged in connection with the theft of a fish tank from The Range store at the Tulip Retail Park in Hunslet.
He is due before magistrates on Tuesday.
The police Facebook post continued: "Just for information the male who was part of the 'sting' operation at The Range has been charged with burglary.
"You will be pleased to know his swellings have gone down."