Bradford pensioner wins £40k ACE insurance fight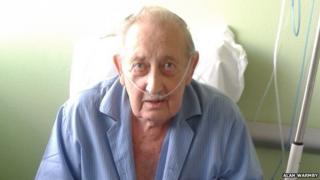 A Bradford pensioner has won a battle with a travel insurance company which refused to pay £40,000 worth of hospital bills he incurred abroad.
John McKenny, 81, caught pneumonia and needed an emergency operation for a stomach ulcer when he was on holiday in Spain earlier this year.
ACE European Group Ltd refused to pay his claim for medical costs claiming his conditions were pre-existing.
But the Financial Ombudsman has ruled the firm must pay Mr McKenny's bills.
In its report, the watchdog said ACE had acted "poorly" and ordered it to pay compensation.
A spokesman for the insurance company said it apologised "unreservedly" for its actions.
'Out on the street'
Mr McKenny feared he would have to sell his home after ACE declined to pay his claim.
He told BBC Look North: "I didn't know what I was going to do.
"It was worrying, [my wife and I] could have been out on the street and all our savings gone".
ACE claimed Mr McKenny had made "deliberate misrepresentations" about his medical conditions and said he was claiming for pre-existing conditions.
But an investigation by the Ombudsman found ACE did not obtain sufficient evidence to support its decision.
A company spokesman said: "We always strive to do the right thing by our customers and it is clear that in the case of Mr McKenny's claim we did not meet the high standards we set ourselves."