George Galloway MP questioned by police over Israel speech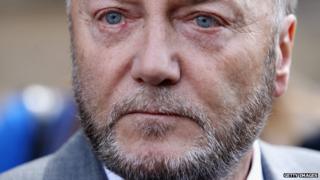 George Galloway has been interviewed under caution by police over a speech in which he said Bradford had been "declared an Israel-free zone", the BBC understands.
Ch Supt Paul Money of West Yorkshire Police said a man of 59 was interviewed voluntarily following complaints about the speech made on 2 August.
Mr Galloway, MP for Bradford West, made the comments at a meeting in Leeds.
The Respect MP's spokesman said Mr Galloway had co-operated with police.
The force said the matter would be referred to the Crown Prosecution Service when enquiries were completed.
'Savage state'
Mr Galloway was questioned at Elland Road station in Leeds, police said.
Officers previously said complaints had been made about the speech urging people to reject all Israeli goods, services, academics and even tourists.
Mr Galloway's comments, made at a meeting of Respect activists, were posted on YouTube.
The Respect MP told the meeting: "We have declared Bradford an Israel-free zone.
"We don't want any Israeli goods; we don't want any Israeli services; we don't want any Israeli academics coming to the university or the college.
"We don't even want any Israeli tourists to come to Bradford even if any of them had thought of doing so.
"We reject this illegal, barbarous, savage state that calls itself Israel - and you have to do the same."
A spokesman for the MP previously said the remarks were an extension of a boycott and direct action movement against supermarkets and companies supporting Israel.
Mr Galloway, who took the Bradford West seat from Labour following a by-election in 2012, is a staunch campaigner and supporter of the Palestinian side of the Israeli-Palestinian conflict.
He co-founded the anti-war Respect Party in 2004 after being expelled by Labour because of comments he made as part of his opposition to the Iraq war.