George Galloway's Israel remarks angers Bradford leaders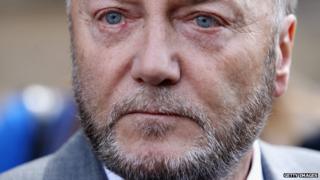 Bradford's community leaders united in condemning George Galloway's remarks on making the city an "Israel-free zone".
Council leader David Green said they were "unhelpful" creating disharmony in a city where Jewish and Muslim populations co-exist peacefully.
The Bradford West MP made his comments in a speech at a Respect meeting in Leeds on 2 August.
After being quizzed under caution by police over the remarks, Mr Galloway said he would not be silenced.
Mr Green said: "Of course the Gaza situation is of great concern, but diplomats' and politicians' debates and arguments should not take place in Bradford."
Amjad Pervez, a businessman and activist, said Bradford was becoming "a PR zone for all these different [political] parties and that's something we must avoid at all cost".
Nigel Grizzard, of Bradford Synagogue, said: "The relationship between Muslims and Jews in the city has always been very good - we share food, we meet, we talk.
"We don't need someone revving it up, it does no good to the city at all."
Deputy Israeli ambassador Eitan Na'Eh said: "We didn't like [Mr Galloway's] statement, it's not helpful at all. His comments only add to the fire."
Israeli ambassador Daniel Taub was criticised for waving an Israeli flag and passport on his visit to the city on Monday.
This followed the raising of Palestinian flag outside Bradford City Hall at the end of July to recognise, the council said, the "suffering and deaths of hundreds of people in Gaza".
Mr Na'Eh said Mr Taub had only visited the city, which has a large Muslim population, to show "sympathy and understanding to the people of Bradford" in the wake of Mr Galloway's comments.
In his speech, Mr Galloway said: "We don't want any Israeli goods; we don't want any Israeli services; we don't want any Israeli academics coming to the university or the college.
"We don't even want any Israeli tourists to come to Bradford. We reject this illegal, barbarous, savage state that calls itself Israel - and you have to do the same."
A spokesman for the MP previously said the remarks were an extension of a boycott and direct action movement against supermarkets and companies supporting Israel.
After being questioned, Mr Galloway said it was a "despicable attempt" to curb his freedom of speech.
"I won't be silenced, I will keep speaking out against horrendous injustice," he said.