Huddersfield Broad canal gets weed-munching weevils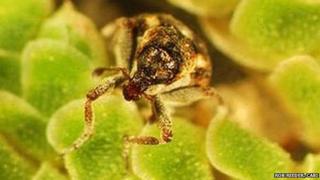 More than 4,000 weevils have been released into a West Yorkshire canal to tackle a quick-growing weed.
The small weed-munching weevils are in the Huddersfield Broad Canal to eat a water fern, Azolla filliculoides.
If left unchecked the fern could cover the canal surface with a thick mat reducing light and oxygen levels in the water, the Canal and River Trust said.
Ecologists from the trust released the 2mm-long (0.1 inch) weevils into the canal near Colne Bridge.
A weed-choked canal could also cause problems for boats and anglers and the weevils and are an effective natural means of tackling azolla, the trust said
'Serious threat'
The weevils feed exclusively on the weed and don't cause damage to other native species, it added.
Phillippa Baron, of the trust, said the weed was a "serious threat to the health of the canal".
Azolla was introduced into the UK in the 19th century as an ornamental plant for garden ponds.