Appeal two years after Clement 'Butch' Desmier murder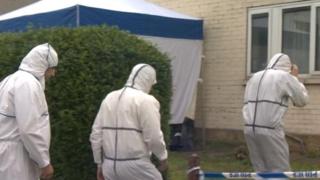 The family of a Bradford man who was stabbed to death two years ago have made a fresh appeal for information to find his killers.
Clement "Butch" Desmier, 68, was found at his home in Rowlestone Rise, Ravenscliffe, Bradford with 70 injuries and stab wounds on 23 August 2012.
The family said they were still struggling with "the fact that no-one has been brought to justice".
Detectives believed those responsible had links to the local community.
In a video appeal last August, police said they believed the former musician had been tortured.
In a statement, the family said they were still coming to terms with his death two years on.
"This year we should have been celebrating dad's 70th birthday and it's another reminder that dad's killers are out there, carrying on with their normal lives whilst our lives have been shattered.
"We feel that we need closure and we appeal to anyone with any information to contact West Yorkshire Police."
Police said they were focusing on "a number of forensic leads", which had arisen from an independent review they recently carried out.
Det Sup Mark Ridley said: "We still want to identify the man seen with Butch entering his house on the afternoon of 22 August 2012 and the people seen in his garden, stood by his front door and entering his house in the early hours of 23 August 2012."
Mr Desmier left his home at about 11:00 BST on Wednesday 22 August to visit a farm shop with a friend, officers believe.
He then made his way into Shipley town centre at about noon where he visited a bank and shops, during which time CCTV images of him were captured.
Afterwards he took a bus towards Greengates and returned home, police said.
Crimestoppers offered a £10,000 reward for information leading to the killers' conviction.