Firefighters tackle large blaze at Ivy Mill in Bradford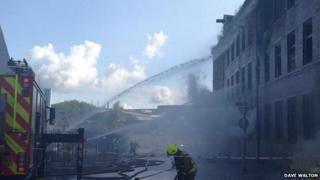 Seventy firefighters have been tackling a large fire at a former textile mill in Bradford.
At the height of the blaze, smoke could be seen from hills on the other side of the city.
West Yorkshire Fire Service was called to Ivy Mill on Mill Lane industrial estate in West Bowling close to the city centre, just before 08:00 BST.
There were still 60 firefighters at the site in the middle of the afternoon, the fire service said.
No one is believed to be trapped inside the building and there is no threat to residents, the fire service said.