Isaac Nash: Skate park tribute to missing Huddersfield boy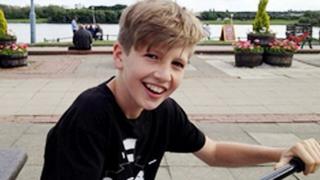 The family of a boy who has been missing for almost a week after being swept out to sea have announced plans to build a skate park in his memory.
Isaac Nash, from Huddersfield, got into difficulty in the water near Aberffraw, Anglesey, on Friday. A search for the 12-year-old is now in its sixth day.
Howard Lewis, Isaac's grandfather, told BBC Radio Leeds the family hoped to raise £50,000 to build a skate park.
The Isaac Nash Trust has been set up to oversee the fundraising effort.
Mr Lewis said: "On Sunday, when we came back from Anglesey, the family walked on to [Highburton Recreation Ground] and there were some boys there who were Isaac's age.
"There is a play area there but boys of that age love their skateboards and scooters and Isaac was telling me previously that they had nowhere to go locally.
"Suzanna [Isaac's grandmother] went up to these lads and said, 'would you like some facilities here?' and they said, 'we'd love it.' That was the seed."
Isaac was swept away while on holiday with his mother Zoe, father Adam, brother Xander, 10, two-year-old sister Greta and other family members.
A spokesman for North Wales Police said: "The search for Isaac is continuing today. The situation will be reviewed tomorrow as to how to proceed."