Wakefield's Unity Hall reopens after revamp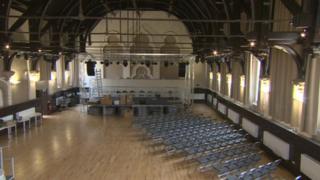 An historic Wakefield venue has reopened to the public following a £4m restoration project.
The Grade-II listed Unity Hall, on Westgate, will host its first event in more than a decade on Saturday after it was officially reopened on Friday.
More than 400 people invested in a community share scheme to help fund the refurbishment, which began in January.
Unity Hall was established as the Wakefield Co-operative headquarters in 1867.
Chris Hill, director of the community group Unity House (Wakefield) Ltd, said: "This lovely old building, which had been the centre of Wakefield life for the entire last century, had just been deserted through poor management in one way or another.
"When I saw how wonderful it was inside and what it used to do I just had to do something about it."
The venue played host to silent movies, wrestling and ballroom dancing, before staging rock concerts in the 1980s, including appearances by The Specials, Boomtown Rats and Iron Maiden.