Leeds railway station staff 'fail to help' fall woman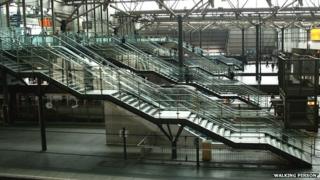 A train operator is investigating a claim that its staff at Leeds railway station refused to help a woman who fell on an escalator because they were not "people handling-trained".
The incident was witnessed by commuter Tom Lees who described the workers' response as "shameful behaviour".
Mr Lees contacted the BBC after being given the explanation by station staff.
Northern Rail has apologised for the incident and said it was investigating the claim.
Mr Lees said the woman fell backwards after she lost her footing while travelling up an escalator connecting the platforms.
'Full investigation'
He said: "Some passengers nearby quickly grabbed to help her and shouted to the staff who were stood down the bottom of the escalator about 20 yards away and they sort of refused to help.
"I went and spoke to them to ask them why they wouldn't help. They said they weren't allowed to get involved because they weren't 'people handling-trained'."
In a statement, a spokeswoman for Northern Rail said: "We report any accident directly to Network Rail so a qualified first aider can be alerted.
"We will be carrying out a full investigation and rebriefing our staff on customer support on the frontline."
The woman who fell on the escalator is not believed to have been injured.