New £1.2m canal boathouse opens in Leeds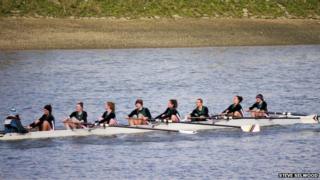 A new £1.2m boathouse to be used by rowers in Leeds has opened on a canal in the city.
The new building in Stourton is on the Aire and Calder Navigation canal and can store up to 50 boats.
It is to be used by members of the Leeds University Boat Club and Leeds Rowing Club and is aimed developing the next generation of Olympic champions.
Rob Wadsworth from the university said the new facility would help to improve participation in the sport.
The Stourton boathouse is one of three national projects for Team GB, he added.
It is also the first time rowing has taken place on the canal since a previous boathouse at Swillington closed in the 1980s.
Previously, rowers travelled to York for training.