Leeds Beckett University drops 'Metropolitan' name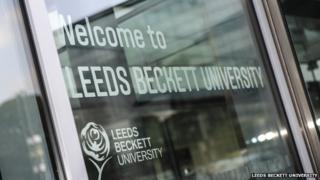 Leeds Metropolitan University has officially changed its name.
It will now be known as Leeds Beckett University and its new signage will be illuminated later to mark the occasion.
The university said it had "outgrown" the old name, which it adopted in 1992. A report last year suggested the "Metropolitan" name "indicated a lower quality product".
The new name was chosen because the city's Beckett Park was the location of the university's founding colleges.