Majestyk nightclub: Firefighters tackle 'large' blaze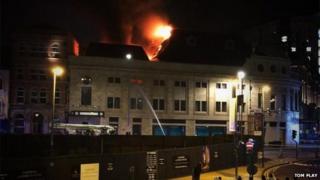 Crews from 10 fire engines are tackling a blaze at the former Majestyk nightclub in Leeds.
West Yorkshire Fire Service said the "large" fire had reached the roof space of the building.
Flames could be seen shooting out of the top of the premises as firefighters fought to bring the fire under control.
Crews were called to City Square at 19:19 BST after reports of smoke coming from the first floor.
The Grade II listed former Majestic cinema, later the Majestyk nightclub, has recently been refurbished.
It closed its doors in 2006 and plans to revive the building included a cinema, restaurants and a gym.
It was in 1922 that the Majestic, as it was then named, opened as a cinema with 2,400 seats.
By the 1950s the venue was a ballroom and in 1969 the building re-opened as a Top Rank bingo club.
The bingo hall later closed and after a few years empty the building became home to the Majestyk nightclub.