Majestic memories: Ballroom, cinema and nightclub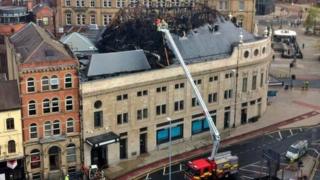 Leeds awoke on Wednesday to find one of the city's best-loved buildings had been devastated by fire.
People stepping out of the nearby railway station stopped and stared at the damage to the building's distinctive dome.
The fire raged for hours through the roof space, leaving only blackened timbers.
The Majestic has been empty for years but many people have fond memories of their time there.
Mike Rogers emailed to say he was working there as a trainee projectionist in 1963 when the decorators merchant next door caught fire.
'So sad'
"I spent the the night on the roof of the Majestic making sure that the extract vents did not catch fire as the construction was wooden," he says.
"I was awarded £5 for my effort from Rank."
For many, the building's most recent incarnation as the Majestyk nightclub is what they remember.
"My school held their discos there - so sad for Leeds," tweeted Michelle Victor.
Maria Rosiello wrote: "Worked at the Majestyk nightclub behind the bar. Best time ever, stunning building."
The premises opened in 1922 and before its time as a nightclub, it was a cinema and ballroom.
Judi Richardson emailed to say she remembered her school being taken there.
"On my 13th birthday in 1965 the whole school, Thoresby Girls High, walked there to see The Sound of Music," she said. "I thought it was a great birthday treat."
John Whitehead was a pianist in the Eric Rogers Rhythm Group, playing in the basement ballroom between 1958 and 1959.
"We played on a revolving stage opposite the Johnny Woolaston Big Band," he said.
"The ballroom was open from Monday to Saturday with matinee and evening sessions.
"I shall never forget those late fifties days."