Lurene Joseph to leave Leeds investment post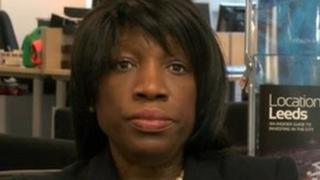 The chief executive of a publicly-funded investment agency is to leave her post to "pursue new challenges."
Lurene Joseph had been head of Leeds and Partners, a firm set up to bring investment to the city, since May 2012.
Chairman of Leeds and Partner, Andy Clarke, said Ms Joseph would leave her post in 2015
In 2013 a report cleared Ms Joseph of bullying former staff but was labelled a "whitewash", by public sector union Unison.
In a statement on Thursday Mr Clarke said "As a result of the strategic investment approach put in place by Lurene... Leeds and the wider region has a solid foundation on which to build future growth.
"Lurene believes that against this backdrop the time is right for her to pursue new challenges in the private sector and to continue her work on private sector boards.
"She will be leaving Leeds and Partners in spring 2015 having assisted with succession and transition planning."
Leeds and Partners said there was no comment from Ms Joseph.
Chief executive of Leeds City Council Tom Riordan said: "I am grateful to Lurene for overseeing the transformation of Leeds and Partners, bringing a fresh and successful approach to inward investment in Leeds and across the region."