Building work delayed on tallest structure in Leeds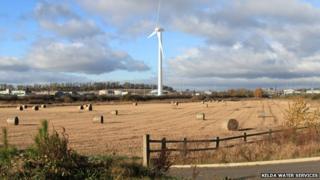 Wind and rain has delayed work on a 404ft (123m) turbine that will become the tallest structure in Leeds.
The wind turbine in Knostrop Lane, in the south east of the city, will provide approximately 10% of the power for a nearby water treatment works.
Building is now scheduled to get under way later in the week and will last two days.
The current tallest building in the city is the Bridgewater Place tower block, which is 367ft (112m) high.
The tower itself is 256ft (78m) high, the three blades of the turbine weigh seven tonnes each and have a diameter of 295ft (90m).
Tom Hall, head of business development for Kelda Water Services, said: "It will be like building a giant Meccano set.
"The increase in wind speeds at height will allow the volume of renewable energy generation from the turbine to be maximised and we hope once built it will become a landmark for the Leeds area."