Austin Brayford jailed for life for Bradford double murder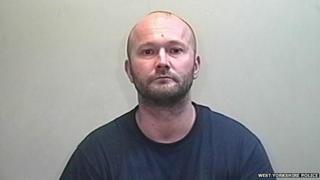 A man who killed two people in a "drunken" and "violent" attack at a house in Bradford has been given two life sentences.
Austin Brayford, 37, of Sawrey Place, admitted murdering Helen Dawson, 48, and Ivor Spratek, 40.
They were found at a house on Sawrey Place in July. Leeds Crown Court heard the attack on Czech Republic national Mr Spratek was racially motivated.
Brayford was given concurrent sentences and must serve a minimum of 30 years.
A post-mortem examination found Mrs Dawson was stabbed to death and Mr Spratek suffered a head injury.
Brayford was an alcoholic, who was in a deeply drunken state, the court heard.
The court was told he had a history of violence and said he hated eastern Europeans.
At the shared accommodation where he lived, he beat Mr Spratek to death before repeatedly stabbing his partner, Mrs Dawson, because she had witnessed his murder.
After fleeing the murder scene, Brayford took a train to Blackpool where he confessed to the murder to a waitress at a cafe, the court heard.
Prison sentence 'not enough'
Standing side by side, Mrs Dawson's two daughters, Becky Dawson and Emma Green, read a statement outside the court. They said their mother had been "cruelly taken".
"Austin Brayford is an evil man, who has left two innocent children without a mum and a little girl without a grandma," said Becky.
"No amount of time in prison will be enough. In my opinion this evil person shouldn't be allowed to walk the streets because our mum can't."
Det Sup Simon Atkinson, of West Yorkshire Police, said: "This was a despicable act against two vulnerable individuals, who considered Brayford to be their friend.
"We will never know what caused him to commit such shocking and gratuitous violence, which has left one family without a loving mother and another without a son and brother.
"We would also like to praise the efforts of the member of the public who overheard Brayford talking about what he had done. Her swift actions made sure that police were able to quickly locate and arrest him.
"Brayford has shown no emotion or compassion for the grieving families, in Bradford and in the Czech Republic, by offering an explanation for what he did."