Calderdale smokers to avoid litter fine with cessation course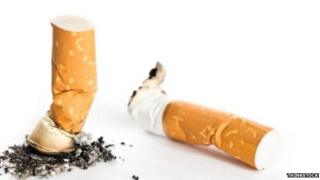 Smokers in Calderdale caught dropping cigarette butts will be given the chance to kick the habit rather than pay a fine.
On Monday night Calderdale Council approved plans to offer people caught littering the option to attend sessions to help them stop smoking.
The scheme offers an alternative to paying a fixed penalty notice of £80.
Smokers will be given a "quit date" of about four weeks after the offence was committed.
If they fail to attend weekly sessions run by the NHS Stop Smoking Service, or do not show signs of giving up smoking during the assessment period, they will have to pay the fine.
Councillor Janet Battye said: "This is a really innovative scheme which is giving people other opportunities to help and encourage them to stop smoking.
"We know that we have an above average number of smokers in Calderdale and that this causes health problems both to the smokers themselves but also to their friends and families."
About 38,000 people across the borough are smokers, the council says.