Bridgewater Place roads close after high winds warning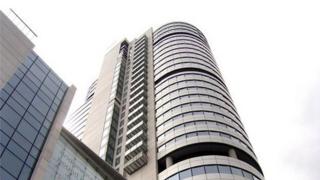 The roads around Yorkshire's tallest building were closed for more than four hours because of strong winds.
Leeds City Council closed the roads around Bridgewater Place at 10:45 BST after the Met Office warned the area could be hit by gusts of up to 60mph.
The strong winds were caused by the end of Hurricane Gonzalo passing through.
The authority reopened the junction of Water Lane, Victoria Road and Neville Street at about 15:00 because "wind speeds [had] fallen significantly".
Gusts of up to 67mph were recorded at Emley Moor in West Yorkshire earlier.
Pedestrian Dr Edward Slaney was killed next to Bridgewater Place in 2011 when a lorry was blown on top of him by the wind, which was recorded at speeds of between 67-79mph at the building that day.
The coroner recommended the area be closed when high winds were forecast.
Bridgewater Place is 112m (367ft) high and was completed in late 2007.