University of Leeds opens national robotic facility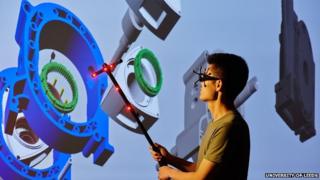 A £4.3 million facility for the design and construction of robots has opened in Yorkshire.
University of Leeds' School of Mechanical Engineering is home to the government-backed centre.
The National Facility for Innovative Robotic Systems hopes to advance artificial intelligence technologies.
The university claims it is now the leading centre for robot building equipment in the UK.
Director of the facility, Dr Rob Richardson, said: "Leeds already has a great track record in robotics for surgical applications, patient rehabilitation, prosthetics, and exploration, but the new facility will revolutionise our ability to turn new concepts into reality.
"We'll be able to make robots that are smaller, more intricate, more flexible and more integrated than ever before."
The new equipment includes one of the world's largest multi-material 3D printers and a 3D visualisation studio.
The Engineering and Physical Sciences Research Council (EPSRC) is spending £2.6 million on equipment for the new facility, as part of a £85-million nationwide investment to support research into robotics and autonomous systems.
The University has invested a further £1.2 million in equipment and lab improvements.
Professor Philip Nelson, EPSRC's chief executive, said: "Our investment in the National Facility for Innovative Robotic Systems will help us attain the goals of the UK's robotics and autonomous systems strategy, launched earlier this year."