Leeds hospice sells celebrity artworks in secret auction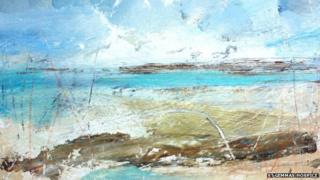 Artwork by Stephen Fry and David Cameron will be sold in a secret auction to raise money for a Leeds hospice.
More than 400 pieces will be auctioned online with proceeds going to St Gemma's Hospice.
Each work is anonymous with bidders not knowing the name of the artist until they receive the painting.
Other contributors include Ian McKellen, Ben Kingsley and Danny Dyer, as well as established and new artists.
Event organiser Danielle LeCuirot said: The works are all signed so people will only know the artist once they have won a bid and received the piece.
"You could find yourself being the owner of a priceless work of art."
The paintings are being shown as part of the annual Leeds Art Exhibition.