Renovation of 18th Century Halifax Piece Hall begins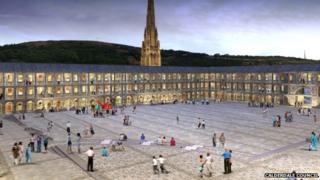 Work has started on the refurbishment of a building which was the centre of Halifax's 18th Century textile trade.
The Grade I listed Piece Hall, which dates from 1779, was a trading centre for locally-woven cloth.
It closed in January to allow preparation work for a two-year project which will include a new extension and visitors' centre.
The Piece Hall is due to reopen in Spring 2016, along with a new £9.25m central library and archive nearby.
Calderdale Council, funding most of the £27m refurbishment, said the Piece Hall would be "a 21st Century heritage visitor attraction, with a state-of-the-art interpretation and learning centre, a new east extension and a redesigned courtyard".
The Heritage Lottery Fund has contributed £7m to the project.
Stephen Baines, leader of Calderdale Council, said the start of the work was a "significant milestone" for the town, and the newly-refurbished Piece Hall, the "striking" new library and the Square Chapel Arts Centre would form part of Halifax's new cultural quarter.
Gary Hughes of GRAHAM Construction, which is carrying out the work for the council, said it would be "caringly restored for future generations".
GRAHAM also worked on the refurbishment of Barnsley Town Hall, Ulster Hall in Belfast and Lews Castle in the Outer Hebrides.