Leeds children's heart surgery halted by 'incomplete' data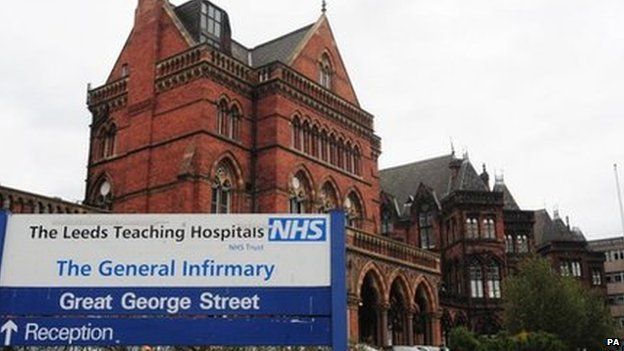 The decision to suspend children's heart surgery in Leeds was based on "invalidated and incomplete data", but was made "in the interests of patient safety", a report has found.
Operations at the hospital's unit were halted in 2013 when NHS England raised concerns about data on mortality rates.
However, surgery resumed 13 days later after an investigation revealed the data was flawed.
The report said it had caused "a storm of controversy and concern".
It said: "Inaccurate data are worse than useless and can be positively damaging.
"At Leeds incomplete information was instrumental in causing the suspension of surgery and great consternation both at the hospital and in the community it serves.
"Leeds senior management at the time should have ensured that data was full, accurate and submitted on time."
The suspension of surgery came a day after a decision to stop children's heart surgery at the hospital - as part of an England-wide reorganisation of services - was quashed in the High Court.
The report, written by management consultants Verita, said the timing of the events had led to the belief there was a connection between the two.
However, it said: "We examined closely the sequence of events that led to the suspension [and] concluded that the suspension was made in the interests of patient safety rather than for any other reason."
The suspension was also prompted by concerns raised by families and doctors at Newcastle upon Tyne NHS Foundation Trust.
A separate report examined concerns about 14 Leeds cases, which were raised by doctors and managers in Newcastle.
It found there had been unnecessary delay in two cases, unsatisfactory risk assessments in another two cases, and failures in communication in five.
However, the report concluded the balance of evidence did not support some of the situations described by Newcastle and the families.
It said the review created rivalry between Leeds and Newcastle and led to strained relationships between the doctors.
It also suggested some of the families' concerns were being communicated "for political purposes".
The report made 17 recommendations, including that Leeds review it communication policies and all NHS organisations make accuracy and completeness of data a high priority.
Analysis: Jane Dreaper - Health correspondent
Children's heart surgery involves delicate operations on exceptionally sick children.
That is why it arouses particularly strong passions, whether those lives are saved or lost.
This latest report shows how a multi-million pound attempt at reorganisation led to a bitter atmosphere and intense rivalry between Leeds and Newcastle.
The authors found the balance of evidence did not support many of the allegations made against Leeds by families who were treated in Newcastle.
It also suggests that some families' concerns were communicated "for political purposes".
The review of units has been reinvented by NHS England, who are continuing to consult patients' families.
It is unclear when the fresh process will end. This controversy is by no means over yet.
Sharon Cheng, of the Children's Heart Surgery Fund - which provides support to the heart unit in Leeds, said: "The report's findings confirm that the Leeds unit is safe and provides excellent standards of clinical care, treatment and outcomes for the children under its care.
"Verita's analysis makes clear that many of the claims and accusations that led to the suspension of surgery and the subsequent unbearable scrutiny of the Leeds unit were unfounded or incorrect, and in some cases were made due to vested interests."
A spokesman for Newcastle upon Tyne NHS Foundation Trust said it welcomed "the scale and scope of change now being brought about that does serve to justify the action taken in April 2013".
On the subject of the 14 cases examined, he said: "The report is about 14 complex cases where the child was either not offered surgery or faced delays or placed on palliative care pathways.
"Despite the underlying complexity and high risk involved, each and every child underwent surgery in Newcastle with a successful outcome. Disappointingly the Verita report has chosen to disregard this important factor.
"Newcastle Hospitals as an NHS Foundation Trust exercised freedom and a responsibility to patients and the NHS to fulfil the duty of candour, that for whatever the prevailing circumstances, were not receiving the appropriate care and treatment."
He said the trust gave its "categorical assurance that our aim then, as it is now, reflects an unstinting commitment to improve pathways of care including choice where appropriate".
Dr Mike Bewick, NHS England's deputy medical director, said: "Patients should be reassured that this service has been rigorously scrutinised and has improved as a result.
"Patients and the public can have confidence that this is a well-run unit and is now in a position to go from strength to strength."
Related Internet Links
The BBC is not responsible for the content of external sites.