Westfield apologises for delays in 'Bradford hole' development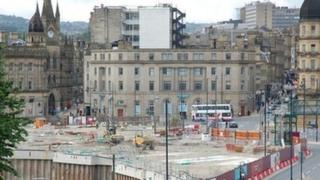 The developers of a stalled shopping centre in Bradford have apologised for delays in construction work.
Westfield took ownership of the 12-acre city centre site in 2004 but work was halted in February 2008, because of the financial crisis.
Work on the £260m Broadway centre, nicknamed the "Bradford hole" by locals, restarted last December.
Westfield's director of development Duncan Bower said he accpeted that the people of Bradford were frustrated.
"I will apologise for delays and the context in which we found ourselves.
"It's not something that we would ever want to do, in terms of stopping work when we've started."
Mr Bower said the financial crash in 2008 meant investors and retailers could not commit to the project.
"It was very much a circumstantial situation. We just hope that people understand those circumstances."
Debenhams and Marks and Spencer will be the "anchor retailers" of the centre, with 70 other shops and restaurants.
The shopping centre is set to be finished by the end of next year.
The Westfield Group operates 119 shopping centres across the world including in Australia, New Zealand, the US and the UK.