Staff shortages at Mid-Yorkshire NHS Trust 'impacting on patient care'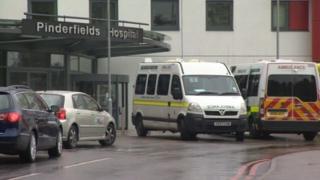 Staff shortages at a Yorkshire hospital trust are affecting the safety and quality of patient care, according to health regulator the Care Quality Commission (CQC).
It found staffing levels in some areas of the Mid Yorkshire Hospital NHS Trust were a "significant concern".
But patients were also "content" with their care at Pinderfields, Dewsbury and District and Pontefract hospitals.
The Trust said more than 100 nurses had been recruited since the inspection.
Prof Sir Mike Richards, the CQC's chief inspector of hospitals, said: "We saw staff treating patients in a compassionate and sensitive way, and patients and relatives were generally content with the care they received.
"However, I am very concerned that staff shortages in the trust's acute hospitals are impacting on the safety and quality of patient care."
'Considerable challenge'
Prof Richards said following the inspection in July investigators had "significant concerns" at the backlog of 9,500 outpatients appointments and the length of time patients were left waiting in accident and emergency to be handed over from ambulance staff.
"While the trust has put systems and processes for improvement in place there is no doubt they have a considerable challenge," he said.
Stephen Eames, the chief executive of the trust, told BBC Radio Leeds: "We've been steadily making improvements but clearly not meeting the standards that the CQC would like to see.
"We're confident that what we've done and the action we've taken since the inspection means that all of our patients are safe.
"The mortality rates at our hospitals are very good, so I can certainly say to all of our patients and communities that these are safe hospitals."