Ann Maguire murder: Judge defends naming Will Cornick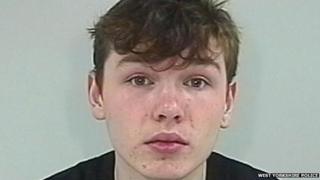 The judge who sentenced the teenage killer of teacher Ann Maguire has defended his decision to identify him.
Mr Justice Coulson lifted reporting restrictions on the naming of Will Cornick, 16, who received a life sentence for the murder in Leeds.
The judge said identification was in the public interest and would have "a clear deterrent effect".
He also hit out at "ill-informed commentators" who had criticised his decision.
Frances Cook, of the Howard League for Penal Reform, was one of those who criticised naming Cornick, who stabbed the Spanish teacher at Corpus Christi Catholic College in April when he was 15 years old.
She said: "The child will be notorious inside prison and will never be able to grow past the crime he committed. The crime is now his permanent identity.
"Public knowledge about the child also brings with it identification of his wider family, who in their way are also victims."
'Internet loners'
But the judge, who on Monday sentenced Cornick to a minimum tariff of 20 years and warned he might never be released, said: "It has to be noted that this is an exceptional case.
"Ill-informed commentators may scoff, but those of us involved in the criminal justice system know that deterrence will almost always be a factor in the naming of those involved in offences such as this.
"There are wider issues at stake, such as the safety of teachers, the possibility of American-style security measures in schools, and the dangers of 'internet loners' concocting violent fantasies on the internet.
"I consider that the debate on those issues will be informed by the identification of William Cornick as the killer."
Leeds Crown Court heard that psychiatrists found Cornick to have "psychopathic tendencies" after he said in interviews that he had "a sense of pride" in what he had done.
"Rehabilitation and reform have to come from William Cornick himself if he is ever to be released," the judge added.
"I am not persuaded this is going to be more difficult unless he can hide from others exactly what it was he did."