Keighley fire engine attack: Four men arrested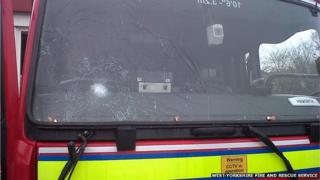 Four men have been arrested after a fire engine had its windscreen smashed in Keighley, West Yorkshire, on Bonfire Night.
Firefighters had to flee during the attack just before 22:00 GMT on Belgrave Road.
Two 20-year-olds, a 19-year-old and a 23-year-old were arrested on suspicion of violent disorder and bailed.
The attack was one of a string of disturbances, which included fireworks and eggs being thrown at firefighters.