Yorkshire ambulance chief executive David Whiting resigns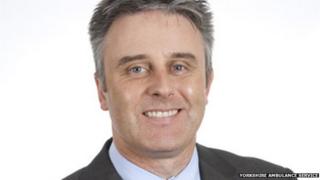 The chief executive of Yorkshire Ambulance Service NHS Trust has resigned "with immediate effect".
David Whiting said he was leaving the organisation after four years to pursue "new challenges". Deputy Rod Barnes will stand in on an interim basis.
Unite the union welcomed Mr Whiting's departure saying it would "herald a new era" at the trust.
Unite's Yorkshire ambulance members have held a series of strikes since April 2013.