Leeds Dock: Transport boost for development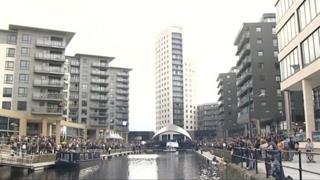 Plans to boost transport links to a Leeds city centre waterside development have been approved by the council.
Leeds Dock has struggled to attract retailers and shoppers since it opened in 2007.
But more than £1.5m is set to be spent on making it easier to visit or commute to the area.
Among the proposals are new cycling routes, shuttle buses and even a water taxi.
A Leeds City Council report said the cost of providing the transport links would cost £1,547,500 over five years, with the dock owners Allied London meeting most of the bill.
The £250m development opened seven years ago as Clarence Dock.
Described as an urban village, the site included flats and shops built around a former industrial area.
A number of shops and restaurants closed with retailers claiming the area had little passing trade.
Allied London bought the site's 150-year lease in 2012 and unveiled plans to revitalise the area.
The company said it could not comment on the new transport plans.