Jack Henry jailed over council tax rebate scam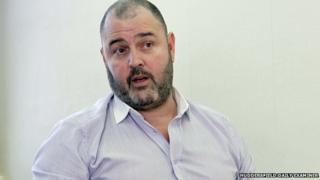 A Huddersfield man who defrauded people out of £250,000 by running a council tax rebate scam has been jailed.
Ex-Scarborough Football Club director Jack Henry ran five companies promising they could reduce council tax bills for a fee of up to £185.
He admitted fraud and money laundering at a previous hearing at Leeds Crown Court and was sentenced to 5 years and 10 months in prison.
Henry has also been banned from being a company director for 13 years.
From February 2012, trading standards received more than 1,600 complaints across the country about a number of businesses operating under the following names: Council Tax Review, CTR, Reband UK Limited, Household Claims and Smartband.
The court heard Henry, 48, of Marion Street, Brighouse, operated the businesses either as director or sole proprietor and had duped hundreds of householders by sending a representative to doorstep them.
'Making physical threats'
Henry and his team claimed they could lower residents' council tax banding and therefore their bills.
If re-banding was successful, Mr Henry's business would take a percentage.
But customers complained of little or no work being done by Henry's firms.
Sentences were also passed to two others - Wendy Smith and John Boon.
Smith, 39, of Southworth Street, Blackburn, Lancashire, acted as a saleswoman for Henry's businesses and was found guilty of conspiracy to defraud and money laundering. She has been jailed for two years.
Boon, 59, of Park Spring Rise, Leeds, worked as an accountant for Henry, and was found guilty of money laundering and conspiracy to blackmail. He was sentenced to six months in prison suspended for two years.
Both of them denied the charges, but were convicted following a four-week trial in August.
Lord Harris, chairman of the National Trading Standards Board, said: "These scammers preyed on innocent and vulnerable victims, often ripping them off for hundreds of pounds."
Henry, also known as Darrell Littlewood, took over Scarborough FC in April 2001 but relinquished his shareholding the following November.