Leeds Majestyk club fire: Damaged roof to be removed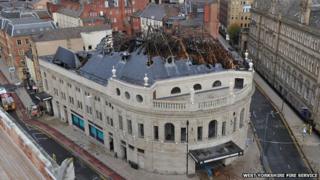 Roads in Leeds city centre are to be closed as work gets under way to remove the roof of a former nightclub badly damaged in a blaze.
The fire at the Grade II listed Majestyk in City Square broke out on 30 September, causing the roof to fall in.
Wellington Street will be closed from midnight on Saturday until 06:00 GMT on Tuesday, to allow owners Rushbond to remove the roof and clear debris.
Leeds City Council warned there would be "significant disruption" to traffic.
Councillor Richard Lewis said: "This essential work needs to be done urgently to protect the safety of the building's structure and so unfortunately cannot wait till after the Christmas shopping period."
Dozens of firefighters tackled the blaze at the site, which was the home of the Majestic cinema in the 1920s.
Stuart Jefferson, 32, of Broadlee Street, Leeds, denied starting the fire when he appeared before Leeds Magistrates' Court on 2 October. He was remanded in custody.