Bridgewater Place roads close to heavy vehicles in Leeds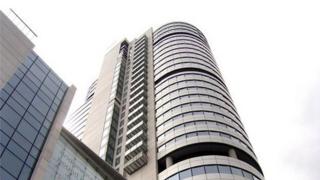 The roads around Yorkshire's tallest building have been closed to heavy vehicles on Wednesday lunchtime because of strong winds.
Leeds City Council closed the roads around Bridgewater Place at midday.
On the authority's website officials posted the warning: "Due to heavy winds, Bridgewater Place is only closed to heavy vehicles at the moment.
The authority said if a full closure was implemented diversions for vehicles and pedestrians would be in place.
Pedestrian Dr Edward Slaney was killed next to Bridgewater Place in 2011 when a lorry was blown on top of him by the wind, which was recorded at speeds of between 67-79mph at the building that day.
The coroner recommended the area be closed when high winds were forecast.
Bridgewater Place is 112m (367ft) high and was completed in late 2007.