Leeds burglary rates fall by 55%, police say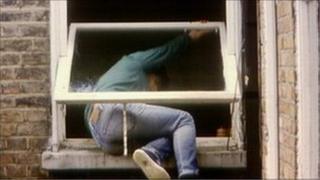 House burglary rates in Leeds, a city that had some of the worst figures in England, have been cut by half, the council and police have said.
Burglary rates dropped from 8,863 per year two years ago, to 4,016, they say.
It comes after a 2011 Audit Commission (AC) study found parts of the city had three times the national average break-in rate.
Its report blamed poor housing and an organised network for the easy disposal of stolen goods.
Major reduction
The AC research showed that between April 2007 and March 2010, the rate nationally went down by 4%, whereas in Leeds it went up by 13%.
It also noted the often poor quality accommodation used by the 60,000-strong student population, who can leave properties empty for long periods, proved attractive to burglars.
The figures for 2013/14 however, show a 55% reduction in break-ins, the council has said. which had resulted in the city, which was once the worst performing core city, now being ranked fourth in a table which compares the domestic burglary household rates of all the eight core cities, which are:
Newcastle
Bristol
Birmingham
Leeds
Sheffield
Liverpool
Nottingham
Manchester
Councillor Mark Dobson, who is responsible for the Safer Leeds initiative, said: "Leeds has now moved from bottom in 2010/2011 to fourth in a league table detailing the domestic burglary rates of the other eight core cities, which again is encouraging.
"While we are certainly moving in the right direction, there is absolutely no room for complacency given the devastating impact this crime can have on its victims."
Ch Supt Paul Money of West Yorkshire Police said: "What is most important about these figures is that they represent nearly 5,000 families or individuals who have not had to suffer the trauma of having their homes invaded and their property stolen."