Halifax theatre company founder Barrie Rutter 'thrilled' to be OBE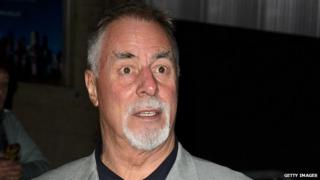 Actor and founder of Halifax's Northern Broadsides theatre company Barrie Rutter has become an OBE in the New Year's Honours list.
Mr Rutter said he was "thrilled" to be honoured for services to drama.
He is among 26 people in West Yorkshire to be honoured.
Adeeba Malik, deputy chief executive of Bradford-based QED Foundation, has become a CBE and Peter Smith, Leeds City Council's Tour de France project coordinator, has become an MBE.
'Humbled and honoured'
Mr Rutter founded the award-winning Northern Broadsides in 1992 and in 2009 directed Lenny Henry in a production of Othello.
Of his honour, he said: "It's a thrill. It's testament to colleagues and friends and audiences over the years that have supported me and the company. It's terrific."
QED Foundation works with ethnic minorities to eradicate poverty, discrimination and disadvantage.
Mr Malik said: "I am humbled and honoured to receive such a prestigious award and to be recognised for my work, which I have always enjoyed."
Other people recognised include Gulfaraz Ahmed, head teacher of Parkinson Lane Primary School, in Halifax, who was appointed OBE for services to education, and Scout leader Ronald Pilkington, from Leeds, who was appointed MBE for services to young people.
Jonathan Vogler, 75, received the British Empire Medal for his role as Working Parties Leader of the Friends of Roundhay Park, in Leeds, which included leading the £8m refurbishment of the park's mansion house.