West Yorkshire Police 'weak' on complex child safety cases says watchdog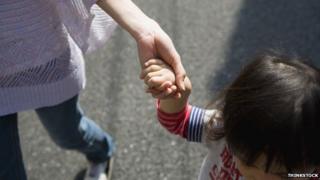 Some child protection cases dealt with by West Yorkshire Police were delayed and long and complex investigations resulted in a "weak response", a police watchdog said.
Approaches to child protection was "inconsistent", a report by HM Inspectorate of Constabulary has said.
But inspectors also found clear commitment to improve and officers responded quickly to specific concerns.
West Yorkshire Police said protecting children was its top priority.
An inspection into the force's child protection work was carried out by the inspectorate over two weeks in August.
Staff 'knowledgeable'
Inspectors found staff who managed child abuse investigations were "knowledgeable, committed and dedicated to providing the best outcome for the child."
But the inspection team warned "there is more to be done, particularly on the more difficult cases to ensure that delays are reduced".
The force has been told that cases where children are kept in police custody overnight must be tackled.
"The chief constable and her command team are committed to improving services for children.
"Inspectors found good examples of intervention by senior leaders to resolve problems such as delays with the Crown Prosecution Service."
Children 'unnecessarily detained'
But it said inspectors "had significant concerns about the extent to which West Yorkshire Police fulfilled its statutory responsibilities, as set out in Working Together to Safeguard Children (document).
"Police attendance at initial child protection conferences was unsatisfactory.
"Moreover, there were serious concerns about the failure of some staff to appreciate the value of police contribution in child protection cases."
The inspectors recommend "immediate action" to undertake a review, together with children's social care services and other relevant agencies, to ensure that the police are fulfilling their statutory responsibilities set out in Working Together to Safeguard Children.
HM Inspector of Constabulary Mike Cunningham said: "West Yorkshire police is clearly committed to improving child protection services and its staff are dedicated and knowledgeable individuals, working to provide the best outcomes for the children of West Yorkshire.
"However there is more work to be done, particularly on the more difficult cases, to ensure that delays are reduced wherever possible and that instances of children being unnecessarily detained in police custody overnight are tackled."
Assistant Chief Constable Russ Foster said: "Protecting and safeguarding children is West Yorkshire Police's top priority and we are absolutely committed to doing everything that we possibly can to minimise the risks to children and ensure that they receive an appropriate level of care and are protected from harm."